CD REVIEWS ARE LISTED IN CHRONOLOGICAL ORDER,................MOST RECENT STUFF AT TOP OF PAGE, SCROLL DOWN FOR OLDER STUFF.........
10.11.19 - North Star : Premier Guitar Review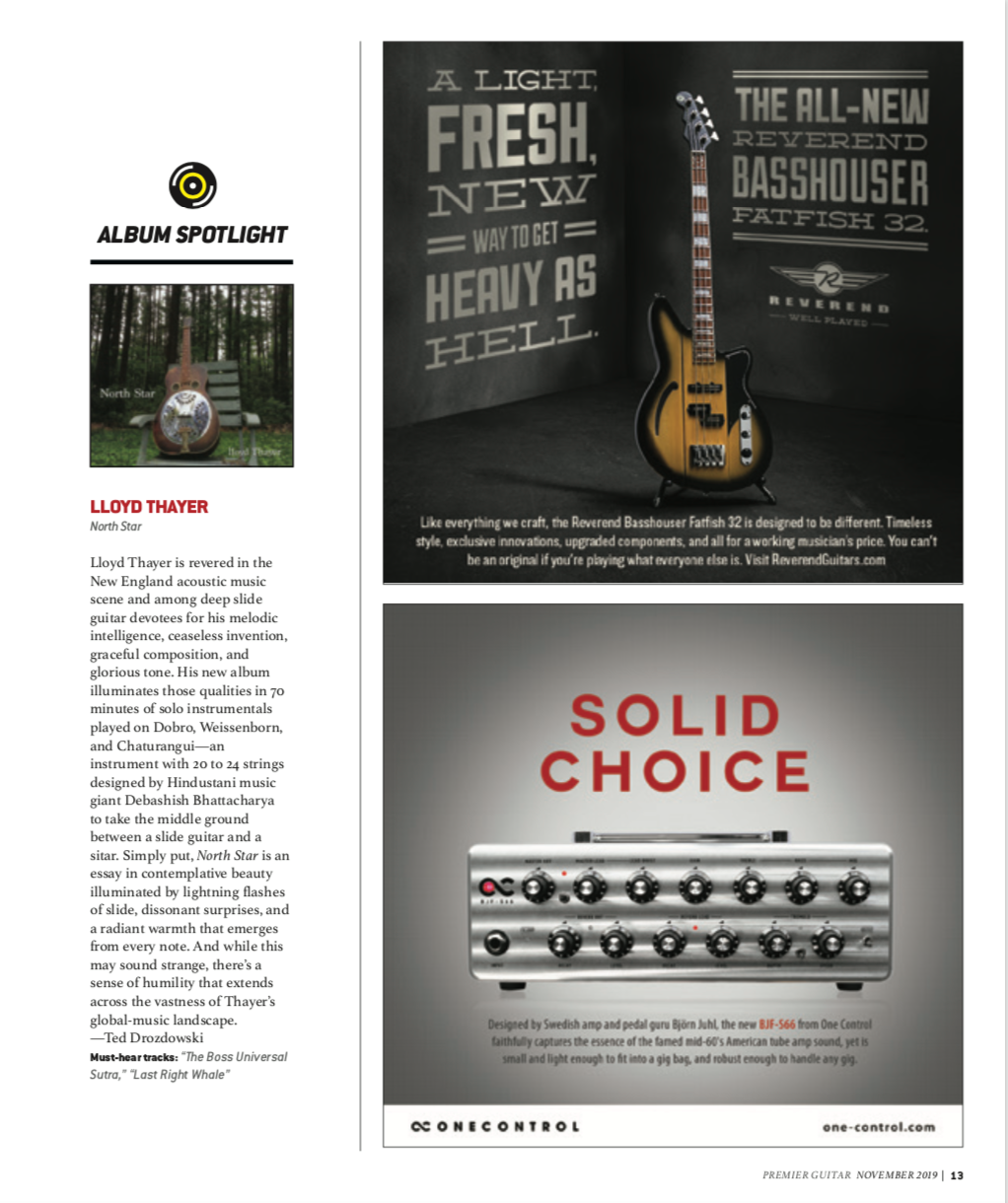 ​​​​​​​
Gratitude: SING OUT MAGAZINE REVIEW: Subtitled "Instrumental Solos For Lapstyle Guitar", Thayer wrote or co-wrote all 16 tunes on this collection and true to his word, performs them on a smorgasbord of Dobros, Nationals, Kays and other variations of 
Hawaiian-derived lapstyle instruments. And when he says "solo", he's not kidding- with one exception, it's just Thayer and his instrument in a series of arrangements that are, for the most part, on the mellow and contemplative
side of things. The pyrotechnics of the likes of Jerry Douglas seem to draw most of the attention these days, but Thayer shows there's a sensitive and restrained side to playing with steel bars and no frets- SING OUT Vol. 53 #2, Autumn 09/Winter10
---
reviews of "The Bumper Pool Diaries" (2007)
LLOYD THAYER: THE BUMPER POOL DIARIES
By TED DROZDOWSKI July 9, 2007 4:55:00 PM
Local stringed-instrument devotee Lloyd Thayer completes his mission to record and release three albums in one year with this gentle, transfixing collection. The Bumper Pool Diaries follows 2006's all-instrumental Birds and the genre-based Blues for Boston, weaving Thayer's lyrics - echoing Tom Waits in "Wonderland," recalling America's lost natural majesty in "I Remember" - with arrangements that embrace blues, folk, country, and rock. The most sensitive number is the character portrait "Earl," which is about a simple lost soul who collects trash and bottles for his on-the-edge survival. Thayer's emotional storytelling is enhanced by his crying dobro and by mountain vocal harmonies from guest Susan Levine. His playing on lap steel, acoustic lap slide guitar, musical saw, conventional electric and acoustic guitars, pedal steel, and autoharp is evocative and graceful - especially when he teeters on the border of Eastern modality and straight-ahead folk for the protest number "Staring at the Screen" and creates a chiming path for "Wonderland" with autoharp and guitar. The latter is bathed in deep, reverberating delay that sounds as if he were playing slide from the top of a distant hill. Although Thayer's been in the trenches of New England roots music for a while, these three albums establish him as one of the scene's most distinctive and creative voices.
---
reviews of BIRDS(2006) 
---
Birds Review, Singout Magazine Winter 2008
Birds is a collection of solo lap-style guitar and Dobro instrumentals by the heavily tattooed lloyd Thayer, a Boston Massachusetts native who has honed his craft during endless hours busking in Cambridge's Harvard Square and on nearby subway platforms. Featuring seventeen originals in the genre-melding, progressive folk tradition of John Fahey and Robbie Basho yet also frequently informed by resilient echoes of an older coterie of rural players from the 1920's such as Frank Hutchinson and Sylvester Weaver, Thayer plays with prismatic imagination and an emotional depth that captivates. 
Longer tracks either possess a regal airiness("Great Blue Heron" and "War Never Ends" come to mind) or operate at a more haunting, introspective level. The intricately subdued yet keening "February Grebe," a chord tolling, percussive "Run Up Butter Mountain" and the marvelously titled, warmly expressive "Pole Vaulting Mingus" are good examples of the latter. The versatile Thayer also picks up his Weissenborn guitar for the pneumatic "Riding the Rails With Chris Darling" and the texturally accessible, evocative "Lost Oystercatcher".
At over eight minutes, the trans-cultural, alternately pensive then swinging improvisation "Hijaz Mojo," played on National steel guitar, is the album's centerpiece but it would be a mistake to overlook any of the much briefer compositions (none of which are throwaways) including "Hammerhead," "Glass Flowers In Mothballs" and the aggressively finger-picked "Charles River Rag" and "Mississippi Ripposaurus."
The gifted Thayer is also and impressive blues singer and very adept at rechannelling various rock and early rap classics. In addition to his sidewalk venues he is a regular at local clubs and coffeehouses like the Plough and Stars, Club Passim and Johnny D's. - GvonT, Singout Magazine. 
BIRDS-Sweet ethereal acoustic music from Lloyd Thayer. Soothing guitar that settles the mind and soul. Excellent musicianship and production make this a tasty morsel of progressive music, showcasing Lloyd's outstanding skill. A terrific release. -RANKIN, HARRISBURG RADIO, PA
BIRDS-It's a must ! Sometimes wild, sometimes sensible, your music is always fascinating. A great moment with a great artist. My cup of tea ! Better, my Glass of Wine !!! -Serge WARIN
Radio Canal Bleu France
BIRDS- O baby the guitar in its full! Lovely solo blues in all kinds of sounds. Wonderfull cd, hope the hear more of you -Jacques Jongmans www.dutchcoastradio.com
from the Boston Phoenix, February 6, 2007 3:02:43 PM
THREE IN ONE
Lloyd Thayer's trio of talents
By TED DROZDOWSKI

THE SLIDER: Thayer got into playing lap slide guitar because of Ozzy Osbourne.
Lloyd Thayer is recounting the roster of instruments he plays as we enjoy Indian food in a Central Square restaurant. "There's dobro, harmonica, guitar, I have a sitar I can play some nice things on, clarinet, saxophone, didgeridoo, and a hurdy-gurdy I can really make some wild sounds on, theremin - but I'm really bad at it - musical saw . . . "
"Wait," I say, nearly choking on a bite of pakora before seizing a chance to solve one of life's great mysteries. "Musical saw? What's the difference between a musical saw and a regular saw? Can you get one at Home Depot?"
"I tried that for a long time and got every kind of saw and couldn't get a sound out of them. You have to get one from a musical-saw maker. It's the way the steel is tempered. The steel is crosshatched in a conventional saw, which makes it more rigid and durable. In a musical saw, all the steel's grain goes the same way, so it will vibrate more. The key is to hold the handle between your knees and keep it in an 'S' shape, bending the tip down, and to use a violin bow on the smooth edge."
Thank me later. But thank Thayer now - by attending one of his upcoming shows, or by buying one of his recent CDs via www.lloydthayer.com - for being one of the more interesting musicians in the Boston area.
His name may be unfamiliar, but chances are you've seen him in Harvard Square or on a subway platform with a guitar laid flat on his lap, a slide at the end of one heavily tattoo'd arm and fingers moving like a spider over the strings at the end of the other. Or on the stages of clubs and coffeehouses, where he's become a frequent presence as a headliner or an opener for bluesy artists like Paul Rishell & Annie Raines and Johnny Winter. And his voice is as memorable as his incendiary lap slide - a gravelly pit bull's bark that resonates with dirty soul.
In person, however, Thayer is a soft-spoken, gentle fellow, qualities he may have acquired through his practice of Buddhism. And they're assets for him as slide-dobro and harmonica teacher at Club Passim's music school. Still, he's a man with a mission: to self-release three albums in 12 months. The first, Blues for Boston, appeared last May, followed months later by a headlining performance at Passim that dashed from conventional blues to folk, Eastern melodicism, bad-ass rockin', and tunes by Stevie Wonder and Run-D.M.C. The second, Birds, has just come out, and he's already at work on number three, recording at home with a computer, a handful of microphones, and the same patience that makes his performances on the first two both exacting and energetic.
"I got the idea for making three albums in a year from a conversation I had with [lap-slide guru] David Lindley. He was playing Johnny D's, and I asked him how he was able to stay on top of playing so many instruments - oud, bouzouki, slide guitar. He said he thought of them as different heads on the same dragon. I thought, 'Okay, that makes sense,' and then when I got home, I thought, 'What the hell did he mean by that?' "
Nonetheless, a notion was sown. "I began to think about the heads I deal with on my own dragon. Blues is one, and then there's the Eastern music and my instrumentals, and the kind-of folk songs I write. If I go to a blues festival, I'll pretty much stick with blues, but at a coffeehouse gig or, say, the Middle East, I know people will want more than one style. But some people get confused when they hear my earlier CDs" - Thayer has made five including Birds - "because I've got every style at once in there. So I thought that by making three CDs of different styles, I could offer people a specific choice of my music."
Indeed, he's encountered blues fans who bristle at the Middle Eastern­flavored microtonal improvisations he's likely to toss into the middle of a Son House classic. But Thayer's too good and too creative a player to be confounded by rigidity. Even on Blues for Boston there's a powerful medley of Howlin' Wolf's "Killing Floor" and Dylan's "Masters of War" that stretches both songs from their historic roots all the way to the scorched desert of Iraq.
Improbable as it seems, Thayer got into playing lap slide guitar because of Ozzy Osbourne. At the time, he was an "armpit guitar player," as snooty sliders like to put it, in a band called Nobody. "We decided to make an album of Black Sabbath songs. The project started when I wondered, 'What if Tammy Wynette did "Iron Man" as a love song?' I felt like some of the songs would benefit from dobro, so that's how I got started."
Eight years later, the three-time art-school dropout has evolved into a personal stylist and a regional treasure - though he's more modest than his abilities require. "I feel like my music is meant for the people who somehow find it. Like water, it will find its way rather than have me force it on them." He's firmly in touch with his inner Buddhist as he says this, and indeed, till a few years ago, he didn't even sell or promote his CDs - he gave them away to anyone who asked. "I feel that Buddhism is really an important part of my music, because it helps me be present and aware of my life, and to be grateful and less distracted by the chaos that goes on around us. And I love the idea of playing in the Square or the subway and having a connection with people. Then it's surprise music - a gift of free music to somebody who's just passing by."
---
from the Boston Herald, Tuesday Jan. 23rd 2007
Sidewalk strummer Thayer reaches lofty heights with 'Birds'
By Daniel Gewertz/ Music
Tuesday, January 23, 2007
Lloyd Thayer earned his street smarts. After 19 years of playing the sidewalks of Harvard Square, Thayer thinks of the street as part of his spiritual practice. 
"The street gives you a sense of reality," Thayer said, chatting over coffee at the Town Diner, near his Watertown home. "Less than 10 percent of the people on Earth, or at least the people in Boston, are interested in what you're doing. To me, that's really grounding. You don't have to think you're Elton John. No one has to hold your cape. There's no parade. Yet that's nice for me. I can stay humble."
Thayer, who plays dobro, lap guitar and banjo, is the ultimate do-it-yourself artist. He not only performs on the streets and in T stations, he records all of his CDs in his home studio. He'll mark the release of his latest, the solo, all-instrumental gem "Birds," with a CD release gig tonight at P.A.'s Lounge in Somerville. The show also features three other solo guitarists: Freedom For Gus, Matt Joy and the masterful Glenn Jones. 
Thayer may play acoustic guitar, but he hardly fits the crunchy-granola stereotype of the sensitive folkie. A muscular 46-year-old with tattoo-covered arms and a stubble haircut, he looks more like a rocker, a biker or maybe a construction worker. But he also is a man on a philosophic search. "I started with music late in life," Thayer said. "I did not play an instrument at all until I was 26. I tell my dobro students that all the time to encourage them." 
This is a hyperactive time for the hardworking Thayer: He's releasing three very distinct-sounding albums within a 12-month period. Last fall, the rough-hewn "Blues for Boston" focused on his blues writing, singing and performing. An upcoming project features his singer-songwriter side, and includes some sharply anti-Bush political lyrics. 
The new "Birds" reveals a surprisingly meditative, ravishingly pretty side. Thayer calls the poetic, reflective solo dobro creations his most accessible music. Bucking modern trends, he recorded each tune with no overdubs; you can imagine National Public Radio using them for its moodier interludes. 
But even if he finds some success with "Birds," Thayer is not about to go corporate. He even avoids busking at Faneuil Hall because the audition and interview process they demand is too corporate for his independent tastes. 
More than stardom, Thayer dreams of accomplishment. 
"I want to write good songs. I want to play from the heart. That's coming from a better place than trying to get rich and famous. Making music for me is a real gift. A privilege."
Lloyd Thayer, at P.A.'s Lounge, Somerville, tonight. Tickets: $7 for 21-plus; $10 for 18-20; 617-776-1557.
---
reviews of BLUES FOR BOSTON (2006)
BLUES FOR BOSTON
From the Feb./March 2007 issue of BLUES REVUE MAGAZINE(Ike Turner is on the cover)
"Not surpisingly, given his Delta-influenced style, driving rhythms and
supple leads characterize the resonator slide work of Lloyd Thayer. But
the tradition embodied in covers of 'You Got To Move' and 'Statesboro
Blues' tells only part of the story. Thayer's broad view of the blues
leads him to stretch both the material (he combines 'Killing Floor' and
'Masters of War', and he breaks down Grandmaster Flash & the Furious
Five's rap classic 'The Message' to prewar essentials) and his
instrumental approach (he inserts an East Indian interlude into 'Walking Blues'). 
The self-released Blues for Boston presents an interesting view of a talented character."
(page 72 under 'Blues Bites")
Blues For Boston | www.lloydthayer.com
BOSTON PHOENIX
By: TED DROZDOWSKI .....8/29/2006 3:56:59 PM
Lloyd Thayer has carved a distinctive notch in the New England roots scene as a solo performer. He blends traditional blues resonator guitar - albeit played on his lap - with the wit, eclecticism, and freedom of contemporary improvisation. His personalized takes on Delta chestnuts and rechanneled rock and rap classics have made him a popular entertainer in venues like Club Passim, the Plough and Stars, and the subway. His third disc is billed as an all-blues affair but still boasts his usual range, zinging between a ringing variation on country blues giant Son House's "Walking Blues" that veers into Middle Eastern melodicism and a free-form interpretation of the Sugar Hill Gang's "The Message." Only a mother gila monster could love Thayer's gravel-and-mud voice, but it does project raw heart and experience with its rasp-and-howl tone - especially on the bitter, emotional protest number "Killing War." Best of all, there's nothing precious about Blues for Boston. Thayer understands that the blues is an old horse that must be driven hard to run its best.
Blues for Boston, reviewed by Vincente "Harmonica" Zumel, Barcelona Spain.......http://www.lahoradelblues.com/criticas.htm
"Blues For Boston" is a suggestive but at the same time powerful album done by a singer and guitar player called Lloyd Thayer, a real 'killer' and master of slide guitar technique he performs with full attention to produce a compact excellent piece of work. Lloyd plays and sings with a deep feeling, using 'lapstyle' guitar technique and different guitar models, such as a twelve strings Washburn, a Gibson 1998 dobro, a 1929 National Resonator Tricone or a Beltone Resonator among others. Lloyd explores interesting new musical ways, cleverly combining Delta blues with indian melodies with very good taste, which gives as a result a convincing innovative record that also includes tributes to Fred McDowell, Skip James or Son House music. VERY GOOD. 

or if you prefer the non english version....."Blues For Boston" es un explosivo y sugerente àlbum de blues a cargo de un cantante y guitarrista, auténtico 'killer' y maestro de la técnica 'slide' que interpreta con sus cinco sentidos y se integra perfectamente en el excelente trabajo que aquí recogemos. Lloyd toca y canta con emoción, ayudándose de su técnica 'lapstyle' y empleando varios modelos de guitarra acústica y dobro, como por ejemplo, una Washburn de doce cuerdas, un dobro Gibson 1998, una National Resonator Tricone 1929 o una Beltone Resonator. Lloyd Thayer explora caminos interesantes y fusiona Delta blues y diferentes melodias indias con acierto y buen criterio obteniendo como resultado un disco convincente e innovador, incluyendo también tributos a Fred McDowell, Skip James o Son House. BUENO
BLUES FOR BOSTON: I have the misfortune to live in a city where the only thing you want to give to the average street musician is a severe beating for disservices to music. So here's hoping the good folks of Boston appreciate their good fortune at having Lloyd Thayer playing on their streets and in their subways. For the benefit of those who need to know such things, Lloyd plays all his songs on a 1929 National tricone squareneck steel guitar, fretted with a metal bar, flat in his lap. And it is a mighty fine sound. Live he runs a gamut of blues, jazz, rap, folk, you name it. But on this, third album, he has acceded to demands for an all blues album. There's eight original tracks and five covers, with nary a bad one to be soon. His rough, ragged voice perfectly complements the music with a medley of Skip James' 'Killing Floor' and Bob Dylan's 'Masters Of War' taking top prize, much to the chagrin of an avid Dylanophobe like me. 
But if you really want to hear the blues getting stretched, bend an ear to his one chord free improvisational reimagining of 'The Message' by Grandmaster Flash, as rap gets taken back to the Delta. An absolutely astounding release, the best of the originals is 'Walking Blues' where he's got the blues so bad it hurts his tongue to talk! But pick any song and you'll find something to love. -STUART HAMILTON, UK
BLUES FOR BOSTON - This is how the Blues should be played and sung...RAW! The emotion that is poured into the playing and vocals on this album, whilst being reminiscent of the Old Timers, is new, vibrant and all indulging. Go for it! -Tony Bates Highlands 100.7FM -AUSTRALIA
BLUES FOR BOSTON - Surprising such a cd in modern times. Old delta blues in by Lloyd Thayer with only his guitar. The whole cd long. That shows courage to do that. Most people wants a deep bass and drums, but that is not nessessary in Lloyd Thayers blues. Sometimes I think on Blind Willie Johnson, when I hear Lloyd Thayer with his special voice. This is blues that you can play always. It is not binding upon time. This evening I play "Same train".-JOSEP PALMADA RED HOT BLUES RADIO VILAFANT SPAIN
---
some reviews of the Big Heart cd(2004):
Lloyd Thayer-Big Heart 
It's early in the morning. The sun is just a halo over the pines and maples that line the horizon. The mornings melancholy hangs over me as I get on the endless treadmill of the working man's grind. I pop Lloyd Thayer's CD "Big Heart" into the player. Smooth Dobro fills the cab of my truck. Silvery melodies, then the lyrics "I'm walking the streets.." I am drawn in. My mind swims easily into the stream of reverie "soo tired of Waiting for your Love". "So true," I say to myself. The music picks up tempo like a rollicking steam engine. The Dobro climbs on the left, the vocals from the right, almost coming up from behind me. The songs tempo reels at a breakneck speed until the train pulls into the station. This is the music of Lloyd Thayer. Smooth and edgy all at the same time. It is music in its pure form. Just a man and his guitar, well Dobro. The Dobro crying like the wind and jangling like a pocket full of change. The voice fits nicely. A touch of Tom Waites and a hint of the Delta by way of Boston. His music speaks of the blues. "Big Heart" is a CD of 14 songs. The song "Wonderland" lets you know Lloyd comes from the Bay State. He takes us on a trip around the Boston area with mentions of the Callahan tunnel and the Big Dig. This CD is perfect Sunday morning blues church music. For that matter it is perfect for most occasions. I listened to it on the way to work. I listened to at the Corporate Headquarters of Hell where I work. It gets you going by putting a smile on your face. I could get my kids dancing or let them listen to it while they try to sleep. I could get my Grandmother dancing and telling stories of the past. 
The only comment I have is that the recording is very "clean". Almost too clean. I could stand hearing a bit of the room in the mix. Just a touch of natural reverb is all. This is just a suggestion. The lack of this reverb does not, however, distract from the purity and beauty of this disc at all. You looking for some down home music? Get this disc and you will have come to the right place.-JIM LEBOUF
Nomasonha Magazine 2005
here are some reviews of the black cd(2003).....which these folks were kind enough to write........
Harvard Square, Cambridge, has lost the gritty urban character it had when Radcliffe 
drop-out Bonnie Raitt played the streets there decades ago, but sidewalk entertainer Thayer, singing and playing lap dobro on two summer afternoons last year, interprets songs from
Memphis Slim, Robert Johnson and even Run DMC with a convincing drama that turns one small paved patch of the square into a back-alley, down-and-dirty haven. Irritable wit soaks the words to arresting originals like "What a Month I Had This Week"and "Get Some Blues."three stars- Frank-John Hadley-DOWNBEAT May 2004
http://www.downbeat.com
WANTED: Lloyd Thayer for the charge of good music. The guy's like Bill Jackson, Jesse Fuller, and Captain Beefheart all rolled into one yellow submarine! No, seriously, if you stroll through Harvard Square during any given weekend, you may encounter Lloyd sitting out on the street, guitar in hand, wailing away Son House or Jimi Hendrix covers as told by his rough, bluesy circle of grit-hound. He says he'll be out there until his fingers freeze, and though money ain't consistent, it's the pure love from the heart of a slide guitar hoodlum. For Lloyd, avidly performing blues off the streets of Boston has been happening only for the past two years soon after he parted from his previous folk band, Nobody. This is all throttling in Lloyd's self-titled solo album, literally recorded live in two days within Harvard Square's hot-land last June, the back photo showing Lloyd stooped over his guitar next to a garbage man working the pail. Slicing into the shaft of music even before hearing it, there's just something intriguing about this or any street musician who cast the mirage aside to settle alive in the dirt song. Half the album slices between his own raw, eclectic versions of Willie Dixon and Run DMC, while the other spans his own original husky tunes of harmonica this-and-that, reminding me of Duster Bennett and David Lannan's forgotten Street Singer album. A slide wonder, it's obvious Lloyd's voice is shooting for the Howlin' Wolf wheeze and will probably take a few more bruised tears, if not years on the streets, before arriving at this crest, that is, if he eternally believes in his singing heroes. Yet, you can detect he trusts himself, 'cuz what separates him from most white blues guys are his wild and tangible adaptions performed in Robert Johnson's "Love In Vain," where the song suddenly veers into a crawling raga. Therein, you can feel Lloyd's smokin' rag-mama howls are a real scrap of his punk identity and the unknown street. And in between his fret-board, the PA will silence for the chirping birds. (self-released)
PERFORMER MAGAZINE dec. 2003
Reviewer -Carson Arnold
---
 LLoyd Thayer recorded this debut CD outdoors on the same Harvard Square streets that he was discovered on. The only sound missing are coins dropped into a guitar case at his feet. Like the early bluesmen of the Delta, Thayer works out his music and song ideas on a street corner. When someone stops, dances or drops a coin, Thayer knows he's got something. Thayer's instrument of choice is a 1929 National Tricone square neck, steel guitar. Like Ben Harper and Kelly Joe Phelps, Thayer too lays it flat on his lap and frets with a bar in his left hand and finger picks with his right. And like both Harper and Phelps, Thayer freely extends his songs as he follows the spontaneous inspirations of the moment. Couple that with a scratchy three day old beard of a voice, and Thayer catches attention on corners or on disc. It was this unique talent that inspired the Boston Blues Society to select Thayer as its representative in the solo performer category in the Blues Foundation's 2004 International Blues Challenge in Memphis. When Thayer arrives there, he'll be playing songs like "Yonder Comes The Blues," a variation of Son House's "Preachin' Blues." Maybe he'll open in Memphis with the delicate, finger picked "No Way To Get Along," Memphian Rev. Robert Wilkins' signature tune once covered by the Stones. If he starts his show with Memphis Slim's "Mother Earth," Thayer will surely get into the second round. The cascading notes he finger picks swirl around the words like the movement of a gentle river. In addition to Thayer's unique covers of these blues classics, he also pens seven originals. From the comic reality slap, "Wake Up And Smell The Coffee," to the beautifully meditative closing instrumental, "Blues For John Miller and Perri." In all, this recording captures the raw grit and experimental nature of this blues. Recent Memphis winners as solo performers Richard Johnston and Fiona Boyles have impressed the judges with keyed up performances possessed by the spirit of the music, both original and historic. The breadth of the music Thayer plays and his street corner sensibilities make this a fine example how blues still rises from the streets.
-ART TIPALDI, blues review magazine
---
Lloyd Thayer 
Delta Punk Dobro
If you've ever been to Harvard Square, you've seen/heard Lloyd. He's the tattooed white guy belting out the blues on the dobro. Yes, that thing that looks a lot like a guitar. As a matter of fact, this CD was recorded right on the street in Harvard Square. And to boot, it sounds good! Thayer keeps his songs simple, just the way his blues forefathers had. He stays true to the form, with the strings, harmonica, and vocals-no more, no less. The plain, sad truth is that Lloyd is doing this for nothing, and he's better than half of the crap we pay descent money for. He is a great example of why we should toss a little loot at the street performers once in a while. This guy is the real deal. 
david o'connell, louder magazine april 2004
---

Lloyd Thayer ­ "Live in Harvard Square" 
The first time I happened on the live music playing in the streets of Harvard Square I thought I had landed in heaven or had been transported to a different moment in time. I thought, "This is great!" So it is no surprise to find out that Lloyd Thayer had played there. What is a surprise is the idea of recording a live performance down there. I think it to be a very cool idea. The disc "Lloyd Thayer Live in Harvard Square" has 14 songs featuring Lloyd Thayer laying out his takes on a few standards as well as some interesting renditions of songs that are surprising to hear a blues based musician play, some little known by most. The sound is surprisingly good for a street recording. Recorded June 8th and 15th of 2003 you really wouldn't be able to tell this is a street recording/performance if you didn't hear the cars honking and rolling by at the beginning of the disc or the dialogue he has with who I guess to be Perri the "Hobo". With songs ranging from Son House to Jimi Hendrix to RUN ­DMC, it is a journey into the Delta via the streets of Boston. "Bleeding House" is Lloyds rendition of two Jimi Hendrix tunes, "Bleeding Heart "and "Red House" spun together into one great jam. Being a big Son House fan I am pleased to hear Son House "Yonder Comes the Blues". Lloyd's take on Robert Johnson's "Love in Vain" features a solo that seems to travel the mountains of Andalusia, Spain before dropping back into the desert-hot cotton fields of Mississippi. Very cool! This is "sitting on the porch of the drugstore" music. You can almost feel the hot summer sun beating the life out of a dirt road as a lone dog scurries for the shade. If you let it, this disc will drive you to the Delta and back. I wish I had happened upon this performance while walking through Harvard Square those summer days. I like it. Pass the cornbread and play me some more, Lloyd.-JIM LEBOUF-Nomasonha Magazine 2005
 
---
lloyd Thayer plays a steel dobro on his lap and sings with a filthy rasp reminiscent of Tom Waits and Frank Morey. Well known to passersby in Harvard Square, Thayer plies his trade on the street corners there. So what better place to capture him, than in his element, and that's exactly where these fourteen tracks were recorded- over two days on a sidewalk in Cambridge's Harvard Square during June of 2003.
Thayer takes Mississippi Delta blues toa whole new level with his scrappy six string assault and boisterous vocals while maintaining the genre's traditions. His delivery is guttural and in-your-face and whether you like it or not, he unquestionably makes his presence felt. In fact, he was runner-up at this year's Battle of the Blues Bands at Harper's Ferry, validating his unique performance style and musical message.
As real American blues, forged by black migrant workers of the South, seems to fade into history, the less you'll see performers of this type. But as long as folks like Keb Mo, Alvin Youngblood Hart, Chris Thomas King and Corey Harris continue to keep the traditions alive, and writing new chapters, street corner vendors like lloyd Thayer will continue to peddle their music to the masses in cities around the world.

-Metronome-November 2003.
---

and last but not least, here's an article written by mary melodee mena for the Boston Blues Society Magazine:
The Boston Blues Society has chosen lloyd Thayer to participate in the 2004 International Blues Challenge in the solo performer category. The competition will be held in Memphis on January 29, 2004. Thayer plays all of his songs on a 1929 National tricone, square neck steel guitar with the instrument lying flat on his lap and fretted with a metal bar. If he looks familiar it might be because you've passed him while he's playing on the street or in the subway in Harvard Squarethe place where he's been practicing, experimenting and working on his original blues tunes for the last 3 years.
To get a tiny glimpse of what the life of a street performer is like I spent an afternoon with lloyd while he played on the sidewalk outside the MBTA elevator in Harvard Square. This is lloyd's "regular" spot unless the weather doesn't cooperate and he is forced to play in the subway. He is competing with a large band playing at top volume just around the corner but the intriguing sound of his dobro, harmonica and gritty singing voice quickly draws a small crowd. It becomes immediately obvious that both children and dogs are fascinated by the sound of lloyd's dobro playing. Sometimes the parents don't want to stop but the children drag them over to listen. And infants in strollers and dogs on leashes crane their necks to hear more as they are hurried past the tall bald guy with all the tattoos and the beautiful silver guitar. lloyd's explanation of the phenomena is "Kids appreciate the honesty of the music, you definitely can't trick a four year old. It is nice to get that feedback." But adults appreciate the music too. Folks hurry out of the T station, stop in their tracks, listen for a bit, drop some money in his box and then continue on. A young lady stops and listens for a while. She doesn't put any money in the tip box but she leaves lloyd a beautiful rose that she's grown in her garden. He displays it on top of his amplifier. "I love playing in the street and I love playing in the subway. I love kids coming over to see me and when they say 'You rock!' it is awesome. I like the positive connection you don't get playing for a crowd in a club. I like the surprise element of it too. People are going about their business and are all wrapped up in what is most important to them and I can be an unexpected surprise It is something different and maybe they'll stop for a few minutes. I'm happy to be something special in their day especially if they are into the blues."
The life of a street performer isn't always full of cheerful children and beautiful young admirers, however. A while later a somewhat confused elderly gentleman stops lloyd in the middle of a song and asks him "Where's the battery?" Thinking he was talking about his instrument lloyd answers "In my amp." The man yells "NO, IN THE CAR" and points to an ad plastered to the wall behind lloydit is a life size photograph of a Nissan. Lloyd admitted to the man he didn't know where the battery was located in the car and the man became agitated and asked "Well, then what the hell are you sitting there for??" and storms away. Thayer is philosophical about the encounter. "Because of the fact that you are literally on the sidewalk and there is no barrierthey can stick their face in your face and say what ever they want. That has an upside and a downsidethey can yell at you or interrupt you and ask for directions or the good part is that they are right there and can say 'You're awesome.' People on the sidewalk say 'thank you' and they appreciate the fact that you've humped your shit out there to play for them. In the clubs they may or may not clap." But then there are the people talking on cell phones who glare at lloyd for playing too loud as they walk by without leaving a tip. Then there is the whole idea of not being able to go to the bathroom or get something to eat for 6 hours at a time. If a performer wants to leave, even for a 5 minute break, he must pack up all his equipment drag it with him, taking the chance that his spot might be filled by another performer or political activist by the time he gets back from the bathroom or coffee shop. And then there is the idea of simply being out there in the world mingling with all people stable and unstable. One afternoon lloyd was "flashed" by a woman who yelled something incoherent and lifted up her shirt. His sense of humor helps keep it all in perspective, "The woman who showed me her breasts had 'issues'. It was like an act of aggression, not appreciation. Maybe she didn't like the dobro."
After the bluegrass band Thayer was in for many years broke up, he made the decision to become a solo performer and play the dobro exclusively. That was in 2001 and he used the Harvard Square sidewalk as his place to rehearse and hone his craft. "I wasn't that good in the beginning. I was good enough that nobody threw anything at me but, you know I think a lot of it changed when I got the National. People were attracted to the metal look of it. It grabbed people's attention more than my old wooden guitar. When I got the National my dobro teacher, Stacy Phillips said to me 'those things are only good for five minutesyou will grab people's attention for five minutes and then they say 'yeah, whatever' and will move on to the next thing.' I laughed and said 'That's all I have!' A lot of times people on the street people will stop and listen for 5 minutes if that, so it is the perfect guitar. I definitely attract more attention when I'm using the National than I do playing the wooden one. I learned more about what worked and what didn't the first year. I found things that were more effective."
During his second year on the sidewalk his evolution continued. "I used to sing in a more 'delicate, sensitive' way. Then I found out that people responded to screaming better," he mentions with a slight grin on his face. "I knew if I played Muddy Waters or Son House I'd make more money than if I played Hank Williams. I learned what type of stuff worked and didn't work. It was good practice. You are out for a long time and people are always moving so you can play the same songs for hours at a time and it helps you get good. I think the more you do it, the less shyness you have and you can go for it. As time went on over that period people started saying nice things to me and I felt more confident. It made me want to go back out there more."
Thayer has made a flow chart of all the club gigs he's played in 2003. He has played more in clubs this year than several previous years combined. I asked him if he liked playing on the sidewalk better than playing in the clubs and he seems torn. "There is part of me that loves the street but on the other hand when I started it my goal was always to play indoors. That is what I WANT to do. This year I played indoors more then I ever have before thanks to the BBS Challenge. Inside is good because of a captive audience and people are there because they are at least somewhat interested in what you are doing. It is better to be playing 10 songs for someone and try to work on that instead of having 40 second burst as someone walks by or before the next train comes. You can take your time. And I'm cautious about getting addicted to playing outside. You can get territorial about your "spots" and who's on them. Trying to get feedback in any way you cantrying to get that response of someone giving you some moneyThen it becomes a thing where you are trying to wrangle money out of people. You know if you play the "Howlin' Wolf" song you are always going to make a dollar. So rather than work on your own song, or work on the Robert Johnson song you don't know yet it is much easier to play the crowd pleaser song that will earn you a buck. Or you start comparing the money. 'Today I only made $4.00 and yesterday I made $9.00.' You get trapped into that. I'm very wary of that. I love doing it but I don't want to get trapped into it. It is nice to have the freedom to do both. There were a lot of years where I didn't have any indoor gigs so I want to take as many as I can and take all the chances I have to play indoors."
If the positive response to his new CD is any indication, lloyd Thayer will have plenty of indoor gigs to choose from in the new year. He recently released a self-titled CD that was recorded live on two sunny days in June, 2003outdoors in Harvard Square. There are no overdubs and the CD accurately captures the magic and energy of his street performances without compromising the sound quality. He muses over life since the release of the CD, "This year is more balanced. After the blues challenge and the new CD I got so busy playing indoors. It is a big time commitment and a big energy commitment to play in the street. I stayed home and rested on some weekends. I'm lucky now I have the best of both worlds. This past year people came out to the square specifically to see methey would come and hang with me for a half hour. I think you might get to a certain point where if you do too much indoors then you can't go out there. For now it is a cool thing to be able to do both."
Mary Melodee Mena
His CD is available at www.lloydthayer.com and www.cdbaby.com
--------------------------------------------------------------------------------------------------------
Side Bar for article:
"Seven Answers to Six Questions About Playing On The Sidewalk" by lloyd Thayer (Used with permission, taken from www.lloydthayer.com)
we get asked a lot of questions, so i'll try to answer some of them here........
1. YES, you should give us money. especially if you ask for directions. :) 
2. yes, we talk about you when you leave, but only if you are mean to us, or if you ask us a lot of questions while we're trying to perform and then don't put even a penny in the hat.....(i especially love it when people come up to me in the subway AS i'm attempting to SING and say 'hey when did the last train come by?') 
3. YES, you DO need a permit. people come around and check. the permits are available through the cambridge arts council. they cost about forty bucks. sometimes, it seems like EVERYONE has one........
4. i have NO idea why tourists want to have their picture taken with me.......especially when i am looking like this: (a photo lives here in the mag...) but for some reason, it happens.....and it happens a LOT......more often than not, it seems to be entire asian families, who will proudly stand around me and have someone take their picture. this really cracks me up, because as i'm smiling for the photo, i'm imagining them having their friends over when they get home, and pointing to the picture on the mantelpiece and saying 'look, we got our picture taken with this big white boy who was playing a steel guitar in the middle of the sidewalk!". or something. and it just makes me laugh my ass off that i somehow am the representative for 'amerika', which if you know me, is very very funny, but even if you don't, you can look at me and see that i'm not really so great of a representation of what's 'american'......:-)
5. we like it when you give us money, but not food. food feels weird. some of us NEED the money, others don't, but if we DO need the money, we can use it to actually buy the food, ourselves, which just feels a little better all the way around.....usually, when people buy me food, it's a sandwich of some sort, and it usually has mayonnaise in it, and i usually leave it laying in the sun next to my feet and....well, you can do the math...
6. it's bad form to let your dog or pet 'sniff' us......i mean, i know i'm on the sidewalk, but i'm not a fire hydrant.
7. i've got a lot of storieslike the day the caravan came, or the day we saw the shemale, or the time a woman stopped me mid song to interrogate me and then said "oh, never mind, i thought you were someone else".....but for now, you'll just have to use your imagination and maybe we'll see you out there some day.....